Welcome!
This is the website of a bike project of two high school friends from Germany to Nepal in 2006. We cycled inspiring 11.500km in 5 months through 14 countries and many cultures.
We hope you enjoy exploring this site. A good starting point is the picture gallery.
Florian and Matthias
PS: In 2009, Florian biked through Ecuador and Peru for a month. Here are some pictures.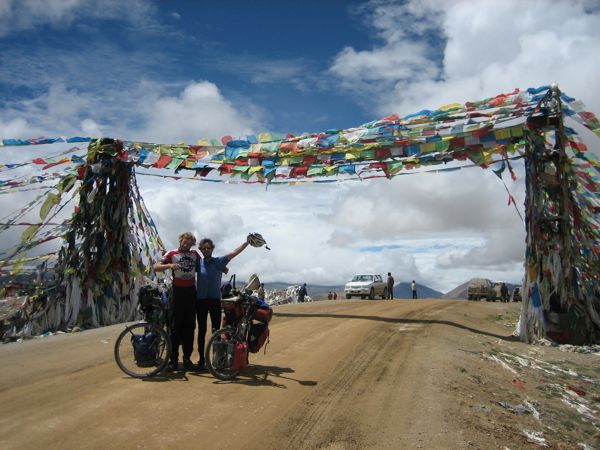 Update: Our local newspaper Rheinpfalz had two articles (in German) about the trip, one from the start and one at the end.


Guten Tag! We made it - yes ! - we made it! Kathmandu is ours! Thinking about the past months on the last kms was really impossible due to damn crazy traffic: People standing on racing buses, cows laying in the middle of the road, permanent honking...

At the end of the day we were able to buy all this western stuff - pizza, baccardi cola, burgers. We didn't consume little. Time passed quickly and suddenly we found ourselves on the road to the airport. While stopping in Bahrain it felt like a flash back to the Muslim world with all its burkas, we hate them so much. After fixing Matthias' third flat at the airport in Frankfurt we emptied the bakery in Gross-Gerau. And then, it was over: The last kilometer - done. We made it.

We thank the thousands of people along the road - our hosts, the waving children, our open conversational partners (we learned so much!). Special thanks to our biking partners: Remi, Ben, Kate, Mel, Alisha, Alkhoven, and Osa - you guys made our trip even more unforgetable! We miss you already. Also, we thank all the people who thought of us, supported us with good wishes, and had the right words at the right times. Finally, we thank each other for good cooperation during the good and bad times.


REMINDER! Our parties in Friedelsheim and Munich are approaching and there are still seats left. Sign up now!

Pictures from the last weeks will be online soon. Check out again after the parties.

Matthias and Florian



Off-topic: In case you need someone to restore your violin please check out Christian Schabbon's site .